Products
Ambient
Our low-pressure, ambient, cryogenic vaporizer line is designed for a maximum pressure of 700 PSI. Our standard high-pressure line is built with a stainless steel lining and is designed for a maximum allowable pressure of 10,000 PSI. The pressure-building vaporizers are designed for a 700 PSI maximum. Monel lined models are also available.
Options
Low & High-Pressure and Pressure-Building Models
Fins Designed for Maximum Surface Area
Wide-Gap Design for Superior Air Flow
Customized Models Available for Special Applications
Standard Features
Simple Assembly
No Welding Required
Expandable, Modular Design
Stackable with No Crating Required
Custom Accessories Available
Optional Connection types

Design Pressure

MNPT (male pipe threads)

700 psig

48 barg

150 lb ANSI F.F. flange

275 psig

19 barg

300 lb ANSI F.F. flange

450 psig

31 barg

Mueller T&G Flange (Solder OD)

700 psig

48 barg
Download Brochure

Electric
FinnStack cryogenic electric vaporizers are available as direct to process, gas trim heaters, pressure builders, and combination vaporizer/pressure builders. They are available with two control options—standard on/off and enhanced PLC controlled cascade heating. Aluminum heat transfer plates with cold stretched stainless steel liners are stacked between cast-in heating elements providing excellent heat transfer and a configurable modular design.
Standard Features
On/off outlet temperature control with Indication
24Vdc controls for safety
NEMA 4 UL cabinet
Dual High block temperature warning and shut down
Replaceable heaters
ASME built to 400 psig
Forklift portable base
Options
Triple tier cascade heater control
Low outlet temperature shut off including indicating controls
Pressure build control including pressure switch and shut off valve
MAWP to 3000 psig
Configurable for custom flowrates and pressure drops
Download Brochure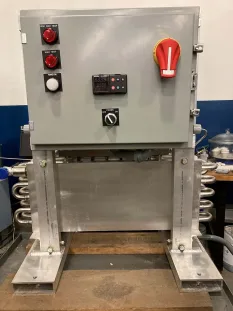 Direct Steam
FinnCo Direct Steam Vaporizers use steam as a heat source to vaporize and superheat cryogenic fluids providing a compact footprint and cost efficient design.
Specifications
Cryogenic SS tube bundle rated at 250 psig @-320/+350°F; TEMA compliant
Carbon steel shell rated at 100 psig @-20/+350°F
Shell and tube bundle to be ASME Sec VIII stamped
Insulated shell with aluminium jacket
Options
Customized for various steam pressures and process conditions
Low outlet temperature shut off
Spare tube bundles
Control tie-ins to plant DCS
Block and bypass around control valve
Pressure building circuit
Standard Direct To Process Model

Flowrate: N2, SCFH and CO2, lbs/hr

FS-60K-6

61,000

5,000

FS-120K-8

123,000

10.000

FS-180K-10

184,000

15,000

FS-250K-10

245,000

20,000

FS-300K-12

306,000

25,000

FS-600K-14

613,000

50,000

FS-900K-16

919,000

75,000

FS-1200K-18

1,225,000

100,000
Download Brochure